Off
Shutdown, Reboot, Sleep and Wake Up PCs and Macs from Your Phone or Watch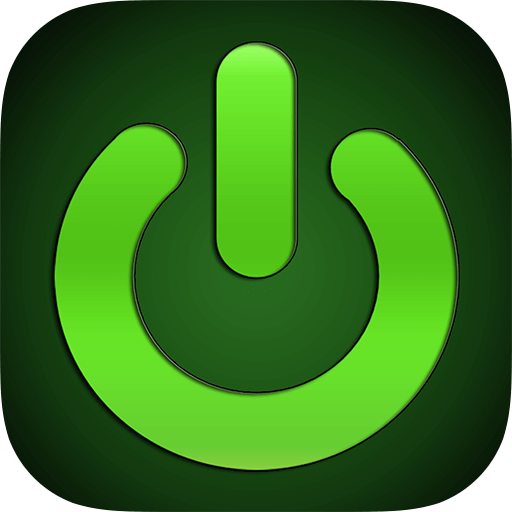 iPhone, iPad and Android App Download
Off Computer Application Download Links
Off makes it easy to turn off or restart any computer on your network from your iPhone / iPad.
With Off you'll be able to save money on your electricity because it'll be effortless to shut down your power hungry machines. If you stream media from your computer to your iPhone or iPad, Off is invaluable as it allows you to fix problems by restarting without even getting up. You can set your computer to shut down in an hour if you're watching something in bed and don't want your computer to be left on all night.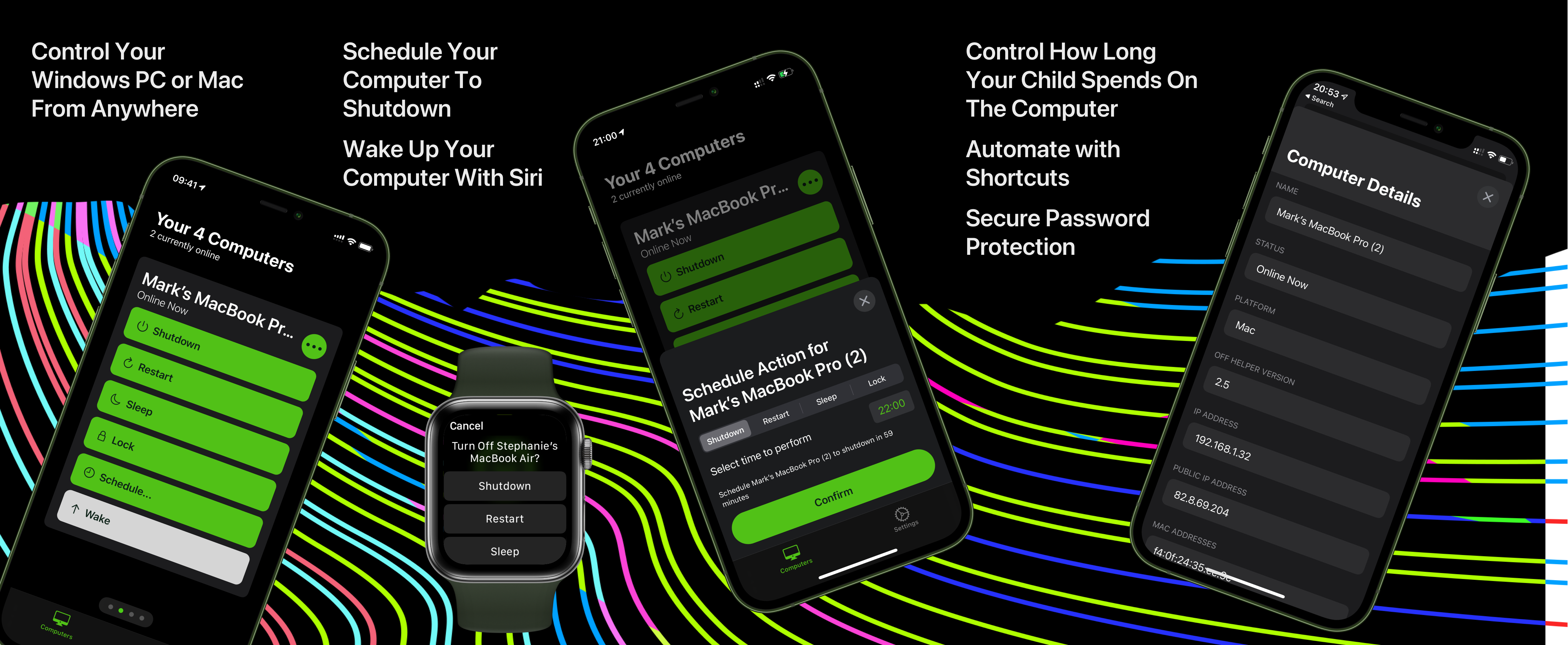 Off requires the free Off application to be installed on any computer you wish to turn off.
Off currently works with Windows 7 and up as well as macOS.
Off works with Apple's Bonjour, this is part of macOS and installed along with many apps on Windows. If you don't have it installed you will be directed to a link to download Bonjour during the installation process.
Reviews
Tiny Timmy ★★★★★
Great app !!!

Great ★★★
Took about a minute to download and worked better than all the other apps similar to this, to get 5 stars needs more options like-log off and sleep but otherwise good

Thank you ★★★★★
Nice and thanks a lot for this, i now can listen to music and auto turn my pc off from it!
Instructions
When you start the app you will be presented with a list of all the computers discovered on your local network that have Off installed. Press the computer you wish to interact with and you will be given the option to shut down or restart.
If you wish, you can set a password on your computer which will need to be entered on the iDevice before an action is invoked. To do this, right click on the icon in the taskbar and select 'Set Password'. Enter the password you would like to use and click 'Set'. Next time you select that computer from your iDevice you will be prompted for this password. If you would like to delete a password you can select 'Set Password' and select 'Delete'.
Mac Installation
Download the application, drag it into your applications folder and open it
To start Off automatically when you computer starts; right click on the icon in the system tray and select 'Options' then 'Open at Login'
Troubleshooting
If, when you're asking for your PC to sleep, it instead hibernates:
Please disable hibernation mode by following these instructions
If you need to install the macOS app and you're running macOS 10.11 or earlier:
An earlier version of Off for macOS can be downloaded here. However, I can't offer any support for this particular version due to its age.
If you're unable to wake a computer:
Check these guides to setup WOL correctly on your PC or Mac

If you get an error when launching Off try the following:
If you're on Windows uninstall Bonjour, Off and any versions of Java you have. Reinstall them in this order; Java, Bonjour then Off.

If you cannot see the computer you wish to shutdown listed in the app check the following:
Check you have the Off application running on the computer you wish to shutdown (If it's running it will be present in the system tray/menu)
Check that both computers are connected to the same local network
Check that the Bonjour Service is running
If do not get a response when selecting a computer check the following:
Check the firewall is not blocking port 1984. Turn the firewall off briefly to see if this is the case. You should be prompted to allow Off through it when you switch it back on or you can enable it manually.